Action unknown: siteexport_addpage
---
---
---
e-Ink Display (elektronische Tinte)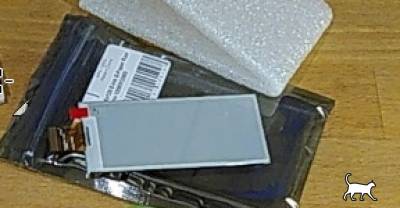 Ein miniatur e-Ink Display als add-on… pimping the tracker - just a little secret.
Das integrierte e-Ink Display kann, nach Fernaktivierung der Suchfunktion mittels downlink, im

Katzentracker

sofort Herrchens/Frauchens Rufnummer anzeigen. Molly kommt dann schneller wieder nach Hause. Ok, a little bit snobbish. But: so what?
Und die weiteren Aussichten: Dieses "add-on" wird die Funktionalität unseres pimped device dann sehr bald auf weitere sinnvolle usecases, die weit außerhalb des Tierreichs liegen, ausweiten (zB innerbetriebliche Kurzkommunikation, sog. paging, etc.)
---
Documentation all written in German language. We use DokuWiki. Google CSE | Translation | link to this site | Twitter | mail: infowiki@berlintracker.de
|| Besuchende: heute: 1 | gestern: 2 | insgesamt: 250 ||
Great work done by Team Molly, Berlin, Germany, Europe. 12.2021ff. All content subject to change unannounced!
<color grey, Katze, cat, Molly, Tracker, cats, catfinder, cattracker, Katzenfinder, cats, cat, hype, animal, animals, Tier, Tierfinder, Tiertracker, tracing, trace, Telekom, public-iot.de, NB-IoT, Telco, IoT, LPWA, LPWAN, LoRa, LoRaWAN, Katzentracker, finde-Katze, finde-Hund, Hundetracker, Tiertracker, Kuhtracker, Schaftracker, Schaf, Schafe, Schafstracker, tracking, smart, smart animal finder, animalfinder, cowfinder, petfinder, horsefinder, smart agriculture, tracking, tracing, Schaf, Pferd, Hund, Molly, smartcity, city, Berlin, Germany, Europe, german quality, startup, funding, investor, vc, venture, venture capital, vapital, Kapital, Finanzierung, investing, angel, angel investor, investment, funding, seed, round A, round B, soonicorn, unicorn, Kapital, smartcities, heart of, capital, KMU, tech, hightech, cutting edge, fund, high tech, innovation, mobile, creative, smart, finden, suchen, verloren, Katzenfinder, findefix, atractive, smart </color>
einkdisplay.txt · Zuletzt geändert: 22.02.2022 - 18:56 von Xyprides
---